We are proud to introduce Academic Coaching! This free service reimagines the Study Plan Consultant program and adds new elements, giving students even more tools to succeed. Students can schedule a one-on-one meeting with an Academic Coach to learn and practice studentship skills, such as effective note-taking, studying strategies, time management, and identifying resources.
How Academic Coaches help you?
Help with Metacognition: "awareness and understanding of one's own thought processes," or learning how to learn!
Methods to efficiently learn and practice proper studentship skills, so you can make the most of your time both inside and outside of class​
Our tutors are trained in a variety of studentship skills

Note-taking
Setting goals
Time management
Memory techniques
Building good study habits
Exam preparation​
Test-taking and test anxiety
How to use Microsoft 365 Office
How to use Canvas effectively​​
Self-care and wellness
Where and when can you get help?
Appointments can be scheduled through MU Connect by searching for Academic Coaching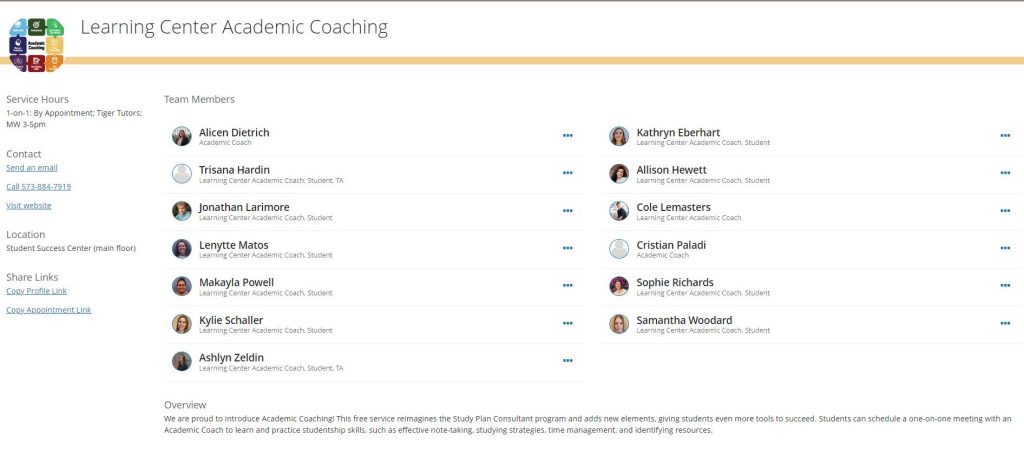 ​More questions?
Contact Charles "Trey" Brock, Algebra/Finite, Foreign Language, and Engineering Tutoring & Academic Coaching Coordinator​
573-884-7919​
Schedule a meeting through MU Connect​
Have you attended one of our Academic Coaching sessions? Let us know how it went by filling out this brief evaluation!