---
Congratulations on being selected as a tutor at Mizzou's Learning Center! You have been hired because we believe you have the interpersonal skills and academic background to take on this important responsibility.  Tutoring not only offers you extra income and instructional experience, it also demonstrates to future employers that you are dedicated to helping fellow students succeed academically.  Our goal is that you find this position to be a unique and rewarding experience.  Tutoring is challenging for both new and experienced tutors because the academic backgrounds, abilities, and motivations of our students vary considerably.  Some will be eager to receive your help; others will be reluctant.  Your positive interaction with another student can make a crucial difference in that student's educational success and in realizing their full potential.
This handbook is designed to help you become better acquainted with our program and to make your time as a tutor as rewarding and productive as possible.  It explains the Learning Center's mission and goals, as well as our tutoring expectations, training requirements, procedures, and paperwork.  It is intended to guide you during your time as a tutor and should be kept accessible for the duration of your employment as a tutor.  You can refer back to this resource at any time as questions arise.  If you ever have any questions, comments, or suggestions, do not hesitate to reach out to Learning Center staff.
---
Purpose:
Tutors play a vital role in supporting students' academic learning. You represent yourself, the Learning Center, and the University.  Here is an overview of the roles a tutor often plays:
A tutor's job is to facilitate student learning and to help students solve problems on their own. Tutors do not just provide answers; rather, they are ready to help the student begin to make progress toward discovering a solution. Tutors:

Conduct individual and small group tutoring sessions in which each student is actively involved in exploring and learning the material
Review principles, solve sample problems, and prepare for tests
Review course concepts, provide alternate explanations, and offer multiple strategies for reviewing and reinforcing information.
Encourage critical thinking and ensure that the students' knowledge is challenged
Utilize listening and questioning strategies as the primary tutoring method to diagnose student needs and monitor progress
Model effective organization and study strategies
Encourage students to do most of the talking and writing during sessions
Help students to identify resources and to develop problem-solving strategies they can use when studying on their own
Realize that all learners make mistakes, but that learning from one's mistakes is a very effective way to learn
Responsibilities:
Participate in self-paced and real-time training, as required
Complete all New Employee Registration paperwork prior to the start of the semester (or hire date)
Develop a schedule of available hours and submit them to the LC, as required
Provide tutoring assistance as assigned via ATLAS, our online tutor request application
Maintain a professional attitude and demeanor
Keep all student information confidential
Demonstrate reliability and dependability
Respect cultural, individual, and role differences, including those based on age, sex, gender identity, sexual orientation, race, ethnicity, culture, national origin, religion, disability, language, and socioeconomic status
Respond to all tutoring emails and requests within 24 hours (not including weekends)
Maintain accurate records of tutoring sessions using the ATLAS software, Excel timesheets, and myHR
Report any problems with schedules and/or tutees to your Coordinator
Report any ATLAS problems to the LC front office staff immediately
Qualifications:
All applications for tutoring positions will be reviewed, as positions open, and selections will be made based on the Tutoring Coordinators' assessment(s) of the following qualifications:
A strong academic background in the subject(s) to be tutored (generally, a minimum overall GPA of 3.0, and a grade of A- or better in the courses you wish to tutor)
TOEFL scores must meet or exceed 100 for computer-based testing and 600 for paper-based testing
Ability to communicate effectively to help students form their own understandings of course materials
Ability to listen to the needs of students and work cooperatively in setting realistic and productive tutoring session goals
Dependability and personal accountability
Letter of Recommendation is optional, but recommended, from someone who can address your qualifications toward becoming a tutor
Time Commitment:
You may tutor as much or as little as you like. Most tutors work 8-15 hours per week (a minimum of 6 hours is required). You may tutor whenever it is convenient for you, and your tutoring availability is entirely at your discretion. The Learning Center asks that you only tutor if you are able to do so for the entirety of the semester.  Where possible, we hire candidates who are likely to work for at least two years.  You may return to tutoring after studying abroad or otherwise taking a break from tutoring for a semester, as long as there is a position open for which you are qualified.  Since this service is based on student need and tutor availability, there are no guaranteed hours, other than if you work Tiger Tutors.
Restrictions on Hours:
The number of hours each tutor may work is determined by Learning Center staff depending on our budget. Student employees are not allowed to work more than 28 hours per week.  This includes a combination of all on-campus paid employment, including as a Graduate Assistant, Resident Advisor, researcher, and/or other employment.
Training/Pay:
The Learning Center's tutor training program is certified by the College Reading & Learning Association (CRLA). As such, we provide training for tutors to improve their knowledge, experience, and professional development. Through a combination of tutoring and training, tutors can become certified in three levels of CRLA tutoring expertise.  Becoming a CRLA-certified tutor provides recognition and positive reinforcement for tutors' successful work from an international organization and acknowledges your ability as a tutor to employ a wide range of strategies in various tutoring situations.  We encourage tutors to include their certification on resumes and graduate school applications.
CRLA Level I: 10 hours of training / 25 hours tutoring
CRLA Level II: 20 total hours of training / 50 total hours of tutoring
CRLA Level III: 30 total hours of training / 75 total hours of tutoring
Undergraduate tutors start out at $12.00 per hour, as of January 2022
Tutor Performance Evaluation Process
In an effort to ensure the Learning Center is employing well-trained, empathetic, passionate, communicative, patient tutors, each tutor will undergo a performance evaluation at each level. The performance evaluation process at each level consists of the following:
Participate in CRLA training workshop in-seat or interactively, via Zoom
Complete all online tutor training, reflections, and assessments
Participation in any required training meetings
Observations and evaluation conducted by your Coordinator, or their delegate
In addition to the items above, staff and student feedback, survey results, reliability and dependability, and professional development will also be considered. 
Hiring:
The Learning Center recruits qualified tutors at the end of each semester for work the following semester, or before the current semester begins. All tutors are required to be available to work a minimum of six to eight hours per week through a combination of individual and group tutoring (including Tiger Tutors).  How much a tutor will work is based on student demand and tutor availability.
For most of our new tutors, working for the Learning Center may include:
Attending the CRLA Certification Training:  We are a nationally certified Learning Center.  As part of this process, all tutors must complete a certain amount of training, tutoring hours, and evaluations.  This includes four hours of paid online training and six hours of paid interactive in-seat training.
Attending paid subject-specific training meetings (1 hour/week).  These meetings are usually scheduled for one afternoon/evening each. Each weekly training meeting prepares tutors for the topics and types of questions that they are likely to see from tutees in the coming weeks.
Tutoring by appointment.  Each of our new tutors will give us a list of times they are available for appointments, as well as a maximum number of hours per week they are able to work. This number is flexible, but we expect tutors to be available at least 6-8 hours per week.
Working one or more days/evenings each week in our walk-in or virtual Tiger Tutors sessions.
Hiring Process:
Complete the application (https://learningcenter.missouri.edu/about/become-a-tutor/) for the subject area(s) you wish to tutor.
Email your completed application to the Learning Center at lc@missouri.edu, and we will forward to the appropriate Coordinator. We strongly encourage you to include a letter of recommendation (from a professor, former teacher, or a current or former employer). They can email the recommendation or mail it to the Learning Center at 100 Student Success Center, University of Missouri, Columbia, MO 65211.
A Coordinator will review your application. We generally hire tutors during specific times of year, based on where we currently have need.  If we need a tutor with your skill set, a Coordinator will contact you directly for an interview.
Once hired, you will need to complete all onboarding steps before you can attend training and start tutoring.
Attend training. As a tutor who is just starting, you will attend Level I CRLA Training.  This will give you a broad understanding of CRLA, Learning Center services, policies and procedures, and instruction on tutoring methods.
Tutoring starts the second week of the fall and spring semesters. At the beginning of each semester, Tiger Tutors sessions are scheduled and advertised, and tutoring requests begin to come into the Learning Center, via ATLAS, for individual and small group tutoring.  Your Schedulers, Terrie and Kim, will match requests with tutors who have expressed an ability to tutor that subject, and determine which tutors have matching availability with the tutee.  See more information in the Learning Center Procedures section on page 13.  If there are no available tutors for the requested course, Terrie or Kim may reach out to all tutors to see who could potentially tutor the course in an effort to fill as many requests as possible.
---
Review Tutor Handbook
Human Resources will send you an email with instructions for all requirements that must be completed as a new employee (NER). Make sure to check your spam/junk folders if you don't receive this within 48 hours.

If you are not currently a student, you will be required to complete a criminal background check. They will send you instructions from the background check provider.
Complete your new hire forms, per your email, at https://myHR.umsystem.edu:

My Personal Information
My Direct Deposit
My Federal and State Tax Info
My I-9 Information

All new employees must complete New Employee Registration (NER) by your first day of work. You will receive a list with forms of ID you must bring with you to Human Resources, as listed on the instructions, in order to provide documentation for the Authorization to Work (I-9).
After you complete NER and HR has processed your paperwork, you will be placed on the Learning Center payroll.

Complete required online training:

Navigate to https://umsystem.percipio.com/. Login with your PawPrint and password. In the upper right corner, you will see your name.  Use the pull down menu and go to "Assignments."  Your assigned learning modules will be listed there.  You will click on each training module, individually, to launch and complete.  These include:

Global Cybersecurity Basics (15 minutes)
University of Missouri System Campus Emergency Alert Training (15 minutes)
Equity in the Workplace: Eliminating Discrimination and Harassment [Title IX] (40 minutes)
FERPA for Higher Education (30 minutes)

For the last two trainings (Title IX and FERPA), you must score at least an 80% (retake if necessary). Screenshot or print your score and either drop off in the office or email to lc@missouri.edu. 

You will be added to the Canvas site: LC Tutor Training. Here, you will find online training modules.  You should complete this training (approximately four hours in length) before attending in-seat training.
Attend the CRLA Level I Workshop in person, or virtually, dependent upon current community requirements.
Fill out the Qualtrics availability survey with the hours you are available to tutor and the courses you are interested in tutoring. For all subjects which you would like to tutor, complete ALL courses within that subject with either Preferred, Possible, or leave that subject blank.  You can list additional courses in the "Other" columns.  The more hours you list as available, the more likely are to get scheduled with tutees!
Read and sign the Tutor Professional Standards form; email or turn in to the front desk*
Read and complete the Online Professional Standards form; email or turn in to the front desk*
Complete the Tutor Profile survey, which will provide us with your basic information and allow us to share with our Mizzou community more about our tutors! Other than the basic information, it is up to you how much or little you share!  Find the survey here: https://learningcenter.missouri.edu/all-about-me-survey/. Please also send a photo of yourself to lc@missouri.edu. 
You are ready to tutor!!!  Welcome aboard!
*Email lc@missouri.edu or umcaslcstudent@missouri.edu
---
Overview:
The Learning Center, which houses both the Writing Center and the TRiO Program, provides academic support to all undergraduates at the university. In 2019-2020, more than 7,000 individuals (including graduate students, staff, and visiting scholars) used the Learning Center and, collectively, these students were more likely to return to MU the following year than students who did not use our services.
Mission:
Our goal is to provide instruction that deepens and enriches students' understanding of the classes in which they enroll. Through peer and professional instruction, we increase students' satisfaction with their educational and interpersonal experiences at MU. Just as faculty members need colleagues to review their papers or research findings, students need tutors, teachers, and peers to review, analyze, and assist them with papers they write and the academic problems they encounter. Our mission, therefore, is to enhance students' academic performance, deepen their satisfaction with their academic experiences, and increase the retention and graduation rates of students who participate in our sessions.
TRiO:
As part of the Learning Center's continual efforts to provide support for students from diverse academic and social backgrounds, we have hosted a TRiO Student Support Services (SSS) project at MU since 1976.  Funded by a grant from the U.S. Department of Education, MU's TRiO Program serves about 700 students, representing undergraduates who are historically underrepresented in higher education, including those who are first-generation college students, students with high financial need, and/or students with disabilities. 
To help these students progress towards graduation and, ultimately, earn degrees, our TRiO Program offers a wide range of services, including (a) academic advising, (b) course-specific tutoring, (c) assistance in writing and critical thinking, (d) help in developing effective study skills, (e) a College Success Seminar, (f) a Freshman Interest Group with a week-long bridge experience, (g) scholarships for eligible sophomores, (h) support for students interested in visiting prospective graduate schools, and (i) housing assistance during breaks between semesters for students who are homeless or in danger of becoming homeless. These services are designed to help participating students make a successful transition from high school to college, form bonds with the campus community, and improve their academic performance and prospects for graduation and beyond.  The Learning Center grant is one of the largest TRiO grants in the country, in both funding and the number of students served.
Collaborative Learning to Achieve Student Success (CLASS):
As a means of expanding the number and limited categories of students for which the Learning Center is able to offer tutoring, MU funds have allowed for the addition of scheduled tutoring to students who are not eligible for TRiO. The CLASS program has focused on providing weekly scheduled tutoring to: (a) traditionally underserved student populations in higher education, (b) veterans, and (c) increased numbers of students registered with the Disability Center.  CLASS participants are offered individual/small group tutoring only for those courses for which we do not have Tiger tutors.
PLEASE NOTE!!                                                                                                                Only students who have certain classifications are able to be scheduled for individual or small group tutoring.  Please be careful about how you invite other students to check into tutoring.  If you need any guidance on this, contact your Coordinator!  Or, better yet, just refer students to the Learning Center front desk.  We will provide information tailored to them specifically!
Individual and Small-Group Tutoring:
The Learning Center offers free individual and collaborative tutoring sessions for TRiO or CLASS participants (meaning this is restricted to certain students).  The ratio of students to tutors is generally no higher than 4 to 1.  Students are scheduled with a tutor for weekly appointments for the entire semester for courses which they request assistance.  When students sign up, they request either one or two hours of tutoring per week in a course.  See LC Policies & Procedures Section for more information on how this process occurs.
Tiger Tutors:
Tiger Tutors features drop-in tutoring/help sessions where students can come to ask questions, review material, and discuss problems with teams of knowledgeable peer tutors. For these sessions, the Learning Center targets subject areas and courses with high enrollments and high demands for tutoring. The current list includes over fifty courses in Business, Biological and Life Sciences, Mathematics, Physics and Foreign Languages. Tiger Tutors is available to all undergraduates.
Study Plan Consultants (SPC):
In 2012, the Learning Center began offering Study Plan Consultation (SPC) appointments to help students develop a customized stud0079wa plan based on their specific courses and other commitments. SPCs work with students to create a 3-Part Planning Toolkit, designed to improve time management and promote better study habits. The toolkit includes:
A calendar of all due dates (for assignments, projects, exams, etc.) in all of the student's classes for the entire semester
A schedule of all weekly commitments and scheduled sources of academic help available for each course the student is taking, and
A flexible calculator (in Excel) that computes current grades, best possible grades, and grade goals for all classes the student is taking.
The SPC uses these tools to help the student develop a plan to prepare for an exam or complete a major assignment in one of the student's more challenging courses. Students usually have two sessions with their Consultant, although they may sign up for additional appointments during the semester if desired. All appointments are scheduled through MU Connect.
Academic Coaching:
Starting in the Fall 2021 semester, the Learning Center started offering Academic Coaching as a service available to all students.  The purpose of this program is to help students learn how to learn (metacognition) and to improve their overall academic success.  Our Academic Coaches are trained in a variety of studentship skills, including:
Note-taking
Setting goals
Time management
Memory techniques
Building good study habits
Exam preparation
Test-taking and test anxiety
How to use Microsoft 365 Office
How to use Canvas effectively
Self-care and wellness
Outside Tutoring Resources Offered:
See our website for more information on:
NetTutor
Tutor Matching Service
---

---

Tutoring Start and End Dates
All services within the Learning Center start the second full week of classes each semester.  This includes all tutoring and Tiger Tutors. All tutoring will end during the last scheduled week of classes.  However, if you wish to meet during finals week, you need to speak with your tutee(s) ahead of time, schedule the session(s), and then ask your Scheduler for a time sheet.
Holidays:
There will be no tutoring held during the following holidays/breaks (unless otherwise scheduled):
Your Tutor Folder:
Each tutor has a green hanging file folder in the file cabinet outside of the Learning Center.  Inside this folder, you will find the following items:
Table Name Tent
Tutor Professional Standards (sign and return)
Online Tutoring Expectations (sign and return)
Tutoring Expectations (review and sign with each tutee at your first session and return)
Canvas login information for the LC Tutor Training site
Learning Center Photo/Video Release
Your Coordinator's business card
Late/Absence Policy:
Tiger Tutors:
If you know ahead of time that you will be unable to attend a session for which you are scheduled, let your Coordinator know as soon as possible.  You can reach out to other tutors for that subject to see if someone can sub for you during that session.  Make sure to let your Coordinator know what you have arranged.  If you are suddenly unable to attend your session, contact your Coordinator immediately. 
Individual/Small Group:
If you know ahead of time that you will be unable to attend a session with a tutee(s), you can work with the tutee personally to reschedule that appointment within the same week, so they do not miss out on any sessions.  There is no need to contact the Learning Center in this case.  See the ATLAS and Time Sheet sections for more information on how to record this change.  If you are suddenly unable to attend your session, contact your tutee as soon as possible to let them know you need to cancel.  Reschedule for another time within the same week so they do not miss out on any sessions.  If you anticipate being unable to tutor for longer than one day, please contact your Coordinator for further guidance.
If you are habitually late to sessions or miss sessions often, your Coordinator will speak to you about whether to continue your employment as a tutor.  We must be able to provide timely and consistent tutoring to our tutees.
Confidentiality:
Remember that the information you have access to, including academic performance and personal contact information (phone numbers, e-mail addresses, etc.) should be kept confidential and used for academic/tutoring purposes only. It should not be discussed with others or accessible to others.
Student Success Center/Tutoring Area Guidelines:
When you are scheduled for individual or small group tutoring, you will be given a table number where your tutoring will take place (unless your tutoring is virtual/Zoom).  This table is assigned based on who your Coordinator is and how many students are assigned to your group.  If more students request tutoring for the same course and we add them to one of your existing tutoring sessions, your table may be reassigned to allow for more students.  If this is the case, you and your tutees will receive an email from ATLAS asking you to confirm the change. Because there will be times that there are several different tutoring sessions being held within the SSC at the same time, it is important to follow these guidelines:
Only Learning Center tutors and assigned tutees are to be at the tutoring tables.
Computers in the SSC are to be used for academic purposes. Do not play games.
Please do not interrupt another tutor to consult about a question. We encourage you to work together and help each other, but not during a session.
Respect the personal space of those around you and remember to conduct yourself as you would in any other work or classroom environment.
Tutors may use the vending machine, refrigerator and/or microwave in the break room area. Please keep this area clean and neat. Remember that other staff in the building are also using this equipment. We are not responsible for items taken from the break room area. 
The tutoring environment should be similar to that of the library. We do not have as much space, so please be particularly conscious of those around you.
Please clean up your tutoring area after your session is complete. This includes picking up any trash on/under the table, wiping up spills and cleaning off the whiteboard (if applicable). 
Children are not permitted to attend classes or lab sessions and should never be left unattended or without supervision in any area of the university while tutoring.
Websites:
Three websites you need to know:
The Learning Center https://learningcenter.missouri.edu.  Lists all of the Learning Center's services including the hours, locations, or Zoom meeting IDs for Tiger Tutor Sessions.
ATLAS

 

https://learningcenteratlas.missouri.edu.  This is where all appointments for individual/small group tutoring are listed and where you will enter attendance for all tutees each session (whether they Attended, or were Early Cancellations, Late Cancellations, or No-Shows).
Your Human Resources Account (myHR) https://myHR.umsystem.edu.  Where you will enter your time worked every week by Friday 5pm or after your last appointment on Friday evening or Saturday, if applicable.
---

Schedulers:
Terrie Campbell and Kim Smith work in the Learning Center office and are the Schedulers for individual and group tutoring.  Terrie (campbellt@missouri.edu) schedules for science tutors, while Kim (swaneyk@missouri.edu) schedules for non-science tutors. Please stop by the Learning Center when you are in/near the Student Success Center and introduce yourself!  You will also have the opportunity to meet our student workers, who often assist students with signing up for tutoring, as well as many other necessary tasks within the Learning Center.  If you have any questions, or changes that need to be made to your schedule, email them immediately. 
Tutoring Tables:
The Student Success Center building has two areas devoted to Learning Center tutoring.  On the main floor, there are several tables which offer the opportunity to tutor students one-on-one.  Additionally, there are five Pods, which are used for daytime Science Tiger Tutors, as well as scheduled small group sessions.  From the main floor down the front stairs (which also leads to the Career Center and MU Connect office), you will find Room 24, behind the stairs.  In this room, there are several more tables for tutoring.  See the map on pages 38 for room layouts.
Whiteboard Sets:
During semesters when we are offering online/Zoom tutoring, we have whiteboard sets available to check out. The set includes one 11×17 whiteboard, three dry-erase markers and an eraser.  You can use it the entire semester (or longer, if needed).  We have 40 sets available. It is first-come, first-served, so please stop by the Learning Center office if you would like a set!
Supplies:
When you tutor in person at the Student Success Center, you will notice that all tables have whiteboards on the walls or against the dividers for your use.  There are dry erase markers and erasers at each board.  Should you need new markers, please see the front desk, in Room 100, of the Student Success Center.  If your table does not have a whiteboard, but you need one, there are several on top of the file cabinet outside the Learning Center doors. Feel free to use one of these boards, but please return it at the end of your session(s).  We also have both Dell and Mac laptops available to checkout.  You will be required to leave your student ID card in exchange, as these are for short-term checkouts.
How Tutoring is Requested/Scheduled:
At the beginning of each semester, TRiO program staff will contact participants about the free tutoring available to them.  Students who have previously received tutoring will often contact the Learning Center about tutoring or go into ATLAS and request tutoring on their own.  For students who have not received tutoring before, many will contact us directly to inquire about services.  As mentioned previously, if the student has the appropriate classification(s), they will be eligible to request individual/small group tutoring and LC staff/student workers will activate their profile in ATLAS and assist them with signing up.  If they do not qualify, staff/student workers will provide them with information on Tiger Tutors, NetTutor, Study Edge and Tutor Matching Service, as well as information on potential tutoring options from the departmental office in which their specific course is offered.
Once a tutee is activated in ATLAS, they are directed to enter their phone number and other pertinent information in their profile.  They will then choose the course(s) in which they would like to have tutoring.  They can request tutoring for any of their courses, however, we generally only offer tutoring in lower-level, highly requested courses.  If they request tutoring in a course for which we do not have a tutor, Terrie or Kim will email tutors to ask if anyone has an interest/ability to tutor in that course.  If we do not have a tutor, they will inform the student and provide alternative options for tutoring. 
When choosing the courses that they wish to have tutoring in, the student will be directed to enter whether they wish to have tutoring once or twice per week in each course.  Once they have chosen the courses and frequency for each, the student will then update their availability grid.  The grid is based on the days/hours we are currently offering tutoring. 
By default, ATLAS makes the entire grid green/available, for all times when the tutee is not in class.  A student's classes will be shown on the grid and tutoring cannot be scheduled during that time.  It is up to the tutee to click on each one-hour block to change it from available to unavailable (red).  Some tutees skip this step, despite email reminders to them.  Therefore, when Terrie or Kim schedules their tutoring, they assume that the tutee will be available.  Many times, the student will contact them to say otherwise, and the tutoring must be rescheduled.  This is why you may have a session scheduled and then the tutee cancels it right away.
After updating their availability, a student will then submit their tutoring requests in ATLAS.  Terrie and Kim are constantly checking ATLAS for new and pending requests.  Based on the course requested, they will check for tutors who have listed that course as one they are able to tutor.  They will look at the availability of both the tutors and tutee to determine who is the best match.  If the tutee has made a special request, such as a specific tutor or to have individual tutoring, they will try to honor that, if possible.  Unless a student requests individual tutoring, they may be placed into a tutoring group of up to four students.  Based on the subject/Coordinator, appointment time and number of tutees, Terrie and Kim will then assign you to a two-top for individual sessions, or to a pod for larger groups (or when tutors are scarce for a particular course).  All of this information is entered into ATLAS and the appointment is finalized. 
Both you and your tutee will receive an email notifying you of the appointment details and asking you to confirm the appointment.  Click on the link to do so.  You and your tutee will be notified when the other person confirms.  ATLAS will automatically send reminders daily to confirm.  After one week, if the tutee hasn't confirmed, the session will be canceled.  Terrie or Kim will attempt to reach out to the student to verify that they still wish to have tutoring and will reschedule, if desired.
Tutoring appointments are listed in one-hour increments.  However, your actual appointments should be approximately 50 minutes in length, in order to give yourself and your tutee time to go to class right after a session, or for you to complete your attendance and time on your timesheet and in ATLAS.
Zoom Tutoring: During semesters when we are offering online/Zoom tutoring, this will be listed in ATLAS instead of a table.  It is your responsibility to send your tutee(s) a link to your tutoring session.  You have freedom to manage these sessions any way you prefer.  Here are some options:
Use your personal Zoom link for each session. You can either schedule a regular meeting within Zoom for the tutoring sessions each week, or just have students drop in.  It may be easier to keep track and organize appointments if you create meetings with the course you are tutoring as the title.
Create a unique Zoom ID for each weekly session you tutor. For instance, if you tutor CHEM 1320 on Mondays and Wednesdays at 3:00pm, you could create a meeting for that subject/time with a unique ID.  If you then tutor MPP 3202 on Tuesdays and Thursdays at 4:00pm, you could create a second recurring meeting with a different ID, and so on.
It is up to you to find what works best for you and to communicate that to your tutee(s).  You are also responsible for sending your link for the appointment to your tutees.  If you have any questions about how to do this, please contact your Coordinator or the LC front office!
Appointment Changes:
If you think your tutee would benefit from meeting more than you are currently, ask them if they want to meet another hour (if you have the time).  Plan it with them and then let your Scheduler know, so they can add it to ATLAS and your Excel timesheet.  A tutee can request up to three hours tutoring per course each week through the ATLAS system (we usually reserve this third hour for those students who are really struggling and need the extra assistance).  If your tutee is doing well and decides they only need one hour instead of two, have them contact the LC with which appointment to drop and we will update ATLAS and your schedule. 
Tutor Changes:
There are times when a tutor and tutee are not a good fit.  If it appears that your tutee is struggling, keep trying to work with them and make sure to try different tutoring strategies, teach to different learning styles, and keep open communication about how and why they are struggling.  Sometimes, students will contact the LC and request a different tutor.  Please don't take this personally!  We will have them speak with a Coordinator about why they wish to switch before actually doing so.  You will be notified of the cancellation of the session(s) in ATLAS.
Tiger Tutors:
At the beginning of each semester, the Learning Center emails all students enrolled in courses covered by Tiger Tutors to invite them to the sessions.  Some professors also speak to their classes about Tiger Tutors.  Tiger Tutor sessions are overseen by a Tutor Supervisor, who is the host of the Zoom meeting during remote sessions and is in charge of entering attendance into MU Connect.  This supervisor and other tutors will then answer questions brought in by students.  Students can attend as many Tiger Tutor sessions as they want to during a semester.  Your Coordinator will provide you more guidance on how to manage sessions.  Because Tiger Tutors is open to all students on campus, feel free to promote them!
During times when Tiger Tutors is slow and you have no students, use this time to complete anything you need to for the Learning Center.  Update your Excel timesheet, enter time into myHR to match, enter attendance into ATLAS, and complete any training and paperwork or any other tasks your Coordinator might have asked you to do.
Making Changes to Your Availability:
We understand that your schedule sometimes changes!  You may pick up a second job, drop a class, pick up an extracurricular activity or have other adjustments. 
Short-Term: Email your Coordinator and your Scheduler about the changes if those changes will affect more than one session. If you just need to reschedule a session with a tutee, you can do that personally, without involving us!
Long-Term: To make permanent changes to your availability over the course of the semester, contact your Scheduler to adjust your availability. If there are several changes that need to be made across your schedule, they may resend the Qualtrics availability survey for you to complete.  Updates will be made to your schedule immediately.
Appointment Changes: If a time no longer works for you and your tutee(s), work with them to reschedule the sessions and let your Scheduler know. The appointment will be updated in ATLAS and on your schedule/Excel timesheet, and you and your tutee(s) will be emailed to confirm the change.
Maximum Number of Hours Available: If, during the semester, you decide that you can tutor more hours than you originally stated, or that you are unable to tutor any more hours than you are currently, email your Scheduler as soon as possible. They will update the information in the schedule to reflect this change.
Social Media:
The Learning Center has growing social media sites.  However, we need more followers!  The best way to do this is for you to follow us and to share with your friends and peers!  We will post information about the Learning Center programs, Tiger Tutors, share information from around Mizzou, and even do staff and tutor highlights!
Resignation:
Should a tutor find it necessary to resign from their tutoring position, they should discuss the resignation with their Tutoring Coordinator before leaving the program. Except for emergencies, tutors are expected to give the Learning Center a two weeks' notice to facilitate a smooth transition out of the position. It is the tutor's responsibility, once a decision is made to resign, to inform his/her tutees that they will be leaving the program, and immediately direct those participants to a staff member for rescheduling of services. All supplies and program materials must be returned at time of resignation. The tutor will also need to complete all pending timesheets and attendance in ATLAS. If a tutor chooses to leave "without prior notice," they will not be eligible for rehire in the Mizzou Learning Center, and this information will be documented in their personnel file.
---

Excel Timesheets
You may not turn in any Excel timesheets or submit your time in myHR until you have completed the New Employee Registration (NER) process, as noted on page 7.  Timesheets will be emailed to you each week by your Scheduler.  If you have any appointments that are added, dropped, or changed after Monday, they may not be reflected on your time sheet.  Please feel free to correct your timesheet so you can accurately enter attendance. 
Scheduled Sessions:
Next to each tutee name, you will see a column named "y or n."  Use the pull-down box in that column for each tutee and choose "y" if they attended their session or "n" if they did not.  Do this for every single appointment.  If you enter "n," please enter a note in the Notes column that indicates why you did not meet.  You can label "NS" for no-show, "LC" for late cancellation, or add another reason.  If your tutee was a no-show or late cancellation, you will enter 30 minutes for that appointment and enter no times.  If your tutee was an early cancellation or did not meet for another reason, you will not enter time and leave the times columns blank.
To enter your time, put your session starting time under "Time In" and your session ending time under "Time Out" on the same line. There is a specific format to enter: for example, 8 am or 8:30 am (spaced exactly that way) will keep you from getting an error and will move the time to the right side of the block.  You will then enter your "Total Time." If you held your session on a different day or at a different time within the same week of your regularly scheduled appointment, you can either record it on your Excel timesheet during the regularly scheduled time or during the actual time you met.  However, whichever way you enter it on your Excel timesheet must match exactly to the time you enter into myHR.
If your session was between 1-30 minutes, record 30 minutes.  If your session length was between 31-60 minutes, record one hour.  Anything over one hour, you will round the time over an hour into six-minute increments:
Minutes                                                                                   Tenths
01 minutes through 06 minutes………………………….. 0.1 (for example, 1.1)
07 minutes through 12 minutes………………………….. 0.2
13 minutes through 18 minutes………………………….. 0.3
19 minutes through 24 minutes………………………….. 0.4
25 minutes through 30 minutes………………………….. 0.5
31 minutes through 36 minutes………………………….. 0.6
37 minutes through 42 minutes………………………….. 0.7
43 minutes through 48 minutes………………………….. 0.8
49 minutes through 54 minutes………………………….. 0.9
55 minutes through 60 minutes………………………….. 1.0
If you tutored Tiger Tutors sessions, please enter your time on one line.  For instance, if you are at Tiger Tutors from 5:00pm – 7:00pm, list the time in and time out on the same line as 5:00 PM / 7:00 PM.  The Time In and Time Out must appear on the same row for formulas we have in place to work for our payroll reconciliation.  The formulas tell us which account to pay you from, based on what you did or which tutee you met with.
Once you have completed your time sheet, you will email it to the following:
Science tutors: campbellt@missouri.edu
Non-Science tutors: ClarkDA@missouri.edu
Your time sheets should be submitted by email, no later than Friday at 5:00pm.  If you have a session that lasts until 5:00pm on Friday, this should be done immediately after it ends.
myHR
myHR is your human resources account for Mizzou. Best practice is to get in the habit of entering your time into myHR immediately after completing your Excel timesheet every Friday, instead of waiting until the end of the pay period to enter both weeks. 
Online Timesheet Instructions
Go to https://myhr.umsystem.edu. Enter your PawPrint and password. Login.
Once inside the portal, click on the MY TIME blocks.
This brings up your timesheet for the entire current pay period. To change this, you can change the *View By drop-down box at the top left of the page to "Week" instead of "Calendar Period."
The times you enter into myHR must match the hours listed on your timesheet exactly.
For each day that you worked, you will enter the time you started under "In." If you just worked a single hour, or if the time you worked is consecutive without any gaps, you can then enter the time you finished tutoring under "Out." If you have more than one block of time to report for a single day, enter the first block under the "In" and "Out" columns, and click the plus (+) sign to the far right of the same day to add another entry row.  You can do this as many times as needed until you have entered all blocks of time you worked in a single day. Click the green Submit button at the top right often to save your entries.  There is no limit to how often you can save.  If you make a mistake, delete the information, and submit again.
Do not use the Lunch column.
The timesheet in myHR defaults to AM, so specify whether your time is AM or PM.
When you are finished entering all time for the current pay period, click SUBMIT one last time. Again, make sure that all hours recorded on your time sheet, plus the total time, match exactly with what you enter into myHR!
Your Coordinator or Scheduler will check, verify, and approve your hours. They will alert you if an adjustment is needed. They will request that you make this adjustment as soon as possible in order to make the final approval so you are paid on time.  If you do not respond, your pay will be delayed until the next pay period.
Your timesheets must be turned in and your time entered into myHR on time, each pay period, in order for you to be compensated in a timely manner. Please be aware that, if you do not submit your time before Saturday at midnight (on weeks your timesheet/myHR entries are due), you will be locked out, and you will need to contact your Coordinator or Scheduler to assist you with entry into myHR.  Hourly employees are paid on a biweekly basis (every other Wednesday).    
---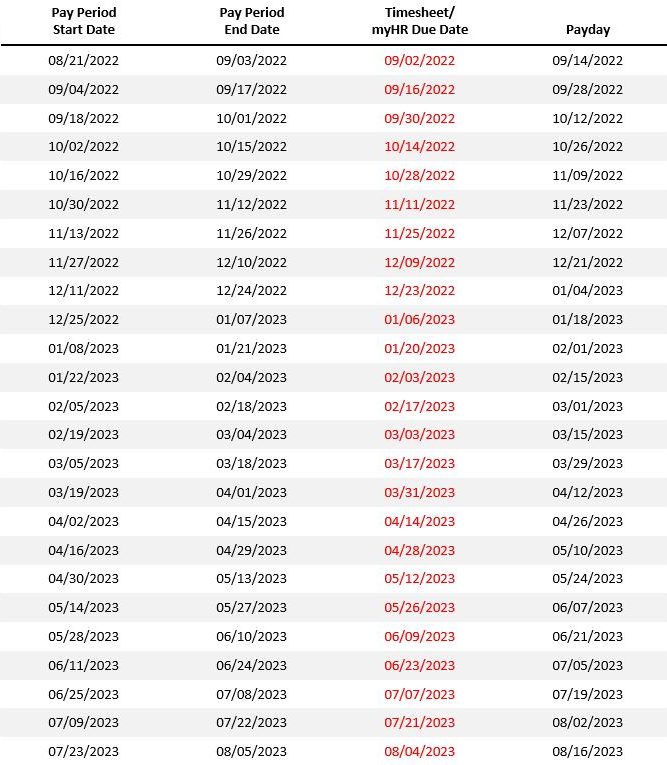 Note: Anything you complete or turn in after the pay period end date will result in your pay being delayed by two weeks.  It is your responsibility to submit items in a timely manner. You will be locked out of myHR for the current period after the Pay Period End Date, and your Coordinator will have to help you input the time.
IN SUMMARY, REMEMBER THE FOLLOWING:
Excel timesheets should be completed and turned in by 5:00pm Friday, or immediately after your last appointment on Friday.
Entering your time into myHR when you submit your Excel timesheet will ensure that we are able to approve your hours and you will be paid on time.
If you do not enter your hours worked into myHR on time, you will be locked out!
Your times must match on your timesheet and in myHR!
Accuracy and thoroughness are important on all timesheets!
---
ATLAS (https://learningcenteratlas.missouri.edu) is a program designed and created specifically for the University of Missouri Learning Center.  This program enables students to submit their tutoring requests so that LC staff can match the student with a tutor most suited for them.  We match based on course, instructor, preference for individual or small-group tutoring, and availability.  As a tutor, you will use ATLAS to locate your most up-to-date appointment details, including tutee information, session days/times, table location (when we return to in-person sessions), as well as notifications of any changes to your existing appointments. 
Confirmation of Sessions:
Once you are scheduled for a tutoring session, you will receive an email asking you to log in to ATLAS to confirm your appointment.  This means that the days and times work for you, and you are accepting the assignment of this tutee to your schedule.  There should never be an appointment you would not confirm, so there is not a "deny" button.  Once you and your tutee BOTH confirm, your appointment is set, and you are expected to meet during that scheduled day and time every week for the remainder of the semester.  If your tutee doesn't confirm within a week, ATLAS will drop the session and your Scheduler will contact the tutee to follow up.  If you are scheduled for a time that does not work for you, contact your Scheduler right away so we can get your availability updated and the appointment moved.  We don't want to delay tutoring for the student!
Note: The Learning Center tutoring program exists to provide students with regularly scheduled weekly tutoring.  It is not meant for intermittent tutoring when the student doesn't understand something once in a while, only before a quiz or test, or at their convenience.  If a student expresses that this is how they wish to set up their tutoring, direct them back to your Scheduler for assistance.  The appointment time they have reserved and are only planning on using "as needed" takes the time from another tutee that could use the ongoing assistance. Your schedules and ATLAS attendance are set up for weekly appointments and you must complete these entries weekly.  Intermittent appointments make it difficult and confusing to complete these correctly.
Recording Attendance:
In ATLAS, you will record whether or not the tutee attended their appointment, and for how long.  It is very important that you enter all attendance into ATLAS in a timely manner so that cancellations and no shows can be tracked appropriately.  Make it a part of your weekly routine, along with filling out your Excel timesheet and entering your time into myHR.  Attendance must be entered for every single appointment with every single tutee you are scheduled with!  We will be using the data from ATLAS attendance to create our annual reports, report data for our TRiO grant, and provide information to the university about the use of our tutoring and the need for it in the future. 
Where do you find it?  On your Tutor page, scroll to the bottom of the page to TUTEE ATTENDANCE. You will see your tutees listed here with an entry for every day of tutoring from the time their tutoring was first scheduled until the end of the semester. You can sort the appointments by clicking on the white title in the black bar.  For instance, click on "Appointment Time" to sort by date (the easiest way to track and find which appointments need to be completed first).  Find the appointment for which you need to enter attendance and click "Edit" at the far right. 
The default appears to be by Tutee.  In order to better see and respond to attendance, click on "Appointment Time" to organize by date.  Once an appointment time has passed, you can update the attendance for that tutee by clicking on "Edit" at the far right.  There are four possible Tutee Attendance Statuses:
Present: Tutee attended the scheduled appointment
Early Cancellation (EC): Tutee notified you at least 12 hours in advance that they need to cancel/reschedule
Late Cancellation (LC): Tutee notified you less than 12 hours in advance that they need to cancel/reschedule
No Show (NS): Tutee doesn't contact you before the session and does not show up to the session
On the screen that pops up, you will enter whether your tutee was Present, Early Cancellation, Late Cancellation, or No Show.  For the latter three, your contact time will automatically show as 0 (because you did not have contact with your tutee).  For those who were Present, you will enter how much time you spent with them (0.5 hour, 1 hour, or over an hour in six-minute increments, as detailed in the Timesheet and Payroll section on page 17).  Click on Submit. You will get a message that says "Are you sure you want to submit this attendance status? You will not be able to edit it once a status has been given. If the attendance status needs to be corrected later, you will need to contact ATLAS staff." If your entries are correct, click Submit again. If the contact status or time needs to be changed, just contact your Scheduler and they will fix it for you!
Recording Absences:
After you enter a Late Cancellation into ATLAS, ATLAS will send your tutee an email notifying them of the late cancellation and that you still expect them to be at their next scheduled appointment.
If you enter a No Show into ATLAS, ATLAS will send them an email saying that they missed their appointment with you, that they need to contact you about it, and that you will not show up again until you hear from them.  DO NOT attend your next appointment with them if you do not hear from them.  If you are attending again and then marking them again as a No Show without having heard from them, this is against our policy.  It is best practice to reach out to the tutee yourself to find out why they missed their session and whether they still wish to continue tutoring.  If the tutee's phone number is not listed in ATLAS, or is a non-working number, contact your Scheduler or the front desk.  If you do not hear from the tutee after a week, please let your Scheduler know and they will reach out to the student.  If the Scheduler also does not hear from them, they will drop the tutoring in ATLAS.  If you hear from them and continue to meet and they have a second No Show, repeat this process.
After you have entered three No-Shows or Late Cancellations (or a combination), ATLAS will drop them from your schedule and will email the tutee about being dropped due to excessive absences.  Your Scheduler will contact them and refer them to a Tutoring Coordinator if they wish to be reinstated.  Note: If their tutoring is reinstated, they will have only ONE more opportunity (or second chance).  If you mark them as Late Cancellation or No Show again, they will be automatically dropped a second time.  Your time is valuable!  As you can see, entering these appointments in ATLAS is important, not just for data tracking, but also for assuring that students who are not following the attendance policy are being dropped in a timely manner!  
Please do not feel bad about marking students as NS/LC or about their tutoring being dropped!  It is up to tutees to attend their appointments in a responsible manner and to reserve cancellations for truly necessary times.  We are trying to help students develop mature behavior.  Our Learning Center's policy is more lenient than many other colleges and universities!
Ad Hoc Appointments:
Ad hoc is defined as "when necessary or needed."  Ad hoc appointments are appointments that are in addition to your regularly scheduled tutoring sessions.  If your tutee needs an extra session during an exam week or because they have a lot of information to learn or process, you can schedule an extra appointment with them without going through the Learning Center.  Check with your Coordinator if you have any questions about extra meetings.  If you are just meeting on a different day or at a different time within the same week of your regularly scheduled appointment, that is not an ad hoc appointment, and you will record that attendance information in ATLAS under the regular appointment time.  (Note that this is different than how we have asked you to complete your time on your Excel timesheet and in myHR.  Those are records of your total time worked, while ATLAS tracks contact time with your tutee).
You will find the Ad Hoc Appointments section at the very bottom of your Tutor page in ATLAS.  Click on ADD NEW AD HOC APPOINTMENT.  Enter the date of the appointment, the course, tutee, and contact time.  Again, this will either be 0.5, 1.0 or 1.1, 1.2, 1.3, etc. (using 6-minute increments for all times over 1 hour).  These appointments will show up in this section once added.
Course Dropped in MyZou:
If your tutee drops their course, ATLAS will automatically drop their tutoring.  A student must be enrolled in a course to receive Learning Center tutoring.
Appointment Time and/or Table Changes:
If your appointment day or time or the location (table) changes, ATLAS will send you a notification email.  This may happen if you or the tutee requests a time change, or your table is changed due to adding additional tutees to your small group.  You and your tutee must log in to ATLAS and confirm the appointment again.
---

I will be on time for tutoring appointments, not only out of courtesy, but also in order to be a good example for my tutee to follow.
I understand that my role as a tutor will never be to do the tutee's work for him or her.
I understand that my ultimate goal is to assist my tutee in becoming an independent learner.
I recognize that I may not have all the answers to student questions. In this event, I will seek assistance in finding answers to the student's questions and/or direct the student to an appropriate resource for the information.
I will do my best every single time and I will make sure to do everything that is necessary for the tutee to be successful.
I will remain flexible in my approach to student learning, respectful of various learning styles and preferences.
I will show respect for my tutee's cultural background and personal value system.
I will keep all information about the tutee to whom I am assigned confidential.
I will maintain appropriate boundaries and will not engage in inappropriate behavior with tutees or others with whom I have professional relationships.
I will maintain accurate and honest records of my tutoring hours and activities.
I will share any concerns I have with my Coordinator.
---
Individual & Small Groups:
Your first tutoring session with a student is extremely important.  It will set the tone and expectations for the rest of the semester.  You are establishing rapport with one another and setting up a positive tutor/tutee relationship.  What is the best way to do this?  Be aware that some students may be added to an existing small group at a later time.  You will need to do these things as new students are added.
Before the first session, contact the tutee by email.  If you are tutoring remotely, provide the Zoom link they will need to access your weekly sessions.  To the first session, request that they bring the following:
a copy of the syllabus for you
their textbook
notes they have taken
any quizzes, tests, or assignments that have been returned
At the first session:
Introduce Yourself
Introduce yourself and offer some information about yourself – your major, your hometown, your hobbies, etc. Ask the student to do the same.  Be yourself and SMILE!
Exchange phone numbers and email addresses, in order to get in touch with each other easily.
Let your tutee know you will be working with them all semester.
Give background information of your knowledge of the subject or course.
Set Expectations
Review the Learning Center's attendance policy and ensure that they understand that three late cancellations and/or no shows will result in tutoring being cancelled.
Discuss your personal expectations for sessions.
Explain your role as a tutor. It is important to explain that you don't have access to the answers for homework. Peer tutors provide an extra layer of academic support for students by reviewing critical concepts and materials from class, clarifying points of confusion, and developing study strategies for upcoming exams.
Make sure the student knows what to bring to each session.
Review and sign the Tutoring Expectations and Online Tutoring Expectations forms. Email these to lc@missouri.edu.
Determine the Student's Needs
Your tutee maybe intimidated or lack confidence during your session. Do all you can to reassure your tutee and show them that you are not there to judge; you are there to help them become an independent learner.  Make them comfortable with you and with the idea of asking for help.  Be encouraging, positive, and enthusiastic.
Ask the student to identify his or her greatest difficulty in the class. What are they doing well? What does the student hope to get out of tutoring?  What are their goals and what do they want to improve upon?  Together, try to determine the most important and necessary objectives.  REMEMBER TO LISTEN ACTIVELY AND CAREFULLY.
Explain to them that if they have attempted to complete their homework before your session, they will have better questions. It will be difficult to tutor them if they are unprepared. You can't discuss material they haven't read.

Set goals. Goal setting is an ongoing process, but it can begin during the initial session. Determine what the student expects but realize that grades are not the only goals to strive for and setting unrealistic expectations can be self-defeating.
Encourage your tutee to let you know when you have not been clear or when they need something explained in a different way.
Tutor!
Review course material with the student.
Follow the guidelines you learned (or will learn) in tutor training: set an agenda, have the tutee answer questions, encourage independent learning, and summarize what was accomplished. Encourage the tutee to give you feedback about the session.
Allow your student to be silent. Give them time to process and work things through but interject when you feel it is appropriate.
Use visuals! Think of what drawings, diagrams, or other visuals will help convey the information. Bring props if you have any. If you need a whiteboard set (whiteboard, markers, and eraser), check one out from the LC front desk in Room 100!
Don't be afraid to be creative. Think up analogies, mnemonics, and everyday examples and applications to illustrate concepts and problems.
Begin to get to get to know the student so as to make ongoing assessments.
Reminders:
Do not agree to tutoring on demand or as needed! This is not how our tutoring program is designed.  If they need only occasional assistance, encourage them to use Tiger Tutors!  Speak to your Coordinator for suggestions on what to do for tutoring in courses for which we do not offer Tiger Tutors.
If you don't meet regularly, it is difficult to assess the student's needs and progress. Encourage regular attendance.
Some students may need additional help beyond the subject of the session. Offer study skills information or point them in a direction for further help. This is a great opportunity to refer students to the Writing Center or Student Plan Consultant (SPC) program!  See our website for more information on these programs.
Keep information divulged during tutoring sessions confidential. Feel free to discuss any areas of success or concern with your Coordinator but refrain from discussing this information elsewhere.
Go ahead and complete your timesheet and ATLAS attendance immediately after your session is finished.
Tiger Tutor Sessions:
Remind students to sign in each time they come in for tutoring.
Greet each student with a friendly smile, introduce yourself, and ask the student's name and what course they need help in. Ask what you can do to help. Personalize the help by using their names and learning about their backgrounds. Give lots of positive feedback and encouragement.
Explain tutoring limits and policies, as needed. Make sure tutees understand that your job is to help them learn, rather than to correct their homework or provide answers.
Encourage students to plan ahead, rather than wait until the day of an exam or the day homework is due. Help them with time management, organization, and other study skills when appropriate. If they need further assistance with this, refer them to the SPC program!  They can sign up in MU Connect.
If there are no students to tutor, use this time to complete any Learning Center tasks you have outstanding (completing Excel timesheets, entering ATLAS attendance, entering time in myHR, contacting tutees, etc.).
Please do not use your phone during Tiger Tutors' sessions. If you are working on your own homework, stay alert to your surroundings and immediately stop when a student needs your assistance or a new student arrives. Otherwise, this sends a message to tutees that you are busy, and they may not ask for help.
If you are a supervisor for the Tiger Tutors session, it is your responsibility to help manage the session and to ensure recording of attendees into MU Connect.
Above all, be patient, encouraging, and make learning and tutoring fun!
---

Do:
Be encouraging, but DON'T give false hope about a grade a student might expect to receive after working with you. If a student directly asks you what grade you think he or she ought to receive, tell the student that the question is impossible for you to answer.
Encourage independence. You do not want the student to rely on you at all times. Let them know that they must put forth effort to benefit from tutoring. Encourage students to focus on learning how to learn.
Allow for periods of silence. Avoid feeling like you have to interrupt a moment of silence by talking. Allow the student to reflect on the subject at hand before going on. Consider the percentage of time you talk versus the time the student talks.
Admit mistakes. We all make them, and you will make some while you are here.
Ask for help when you need it. You most likely will run into a question that you can't answer, or a situation that you can't handle or that makes you uncomfortable. We don't expect you to know everything or to know how to handle everything, so please don't have those expectations of yourself. Ask your Coordinator for help when you need it, either during or after a session.
If you get to a topic or section within the course that you are completely unfamiliar with, do not direct the tutee to their instructor. Contact your coordinator for help. We may need to switch the student to another tutor, and that is okay!
Communicate quickly with any ethical or personal concern. (As a peer tutor, a fellow student may disclose information that is beyond the scope of your role. Due to the variability of situations and the individuality of our students, it is impossible to train peer tutors to handle every scenario that may arise. However, do not hesitate to reach out to staff for guidance, support, and next steps.)
Maintain confidentiality. Don't talk about the students you tutor or that you see using the Learning Center to other students or tutors.
Protect your own time. We expect you to work while you are scheduled to work, but you are under no obligation to grant a student's request for tutoring if it is unreasonable.
Contact your tutee(s) ASAP when you're sick or have another type of absence or delay.
Use your MU email account and check it daily.
Don't:
Arrive late or unprepared to your session.
Do a student's homework for them. (Make sure students are actively participating in the process when you help them with homework problems; let them finish as much of the problem on their own as possible.)
Professor-bash. If a student complains that their professor/instructor is unfair, etc., remain neutral with regards to the professor, no matter how hard this may be. A student may need to express their frustration with a professor's teaching style or grading standards, so don't dismiss the student's feelings. Try to offer constructive ways the student might handle the problem with their professor.
Express frustration at your tutees, even those who really frustrate you. If you need to take a break, excuse yourself for a few minutes until you are composed.
Let one student monopolize all of your time in a group session. Give each tutee within a group session equal opportunity for input and questions.
Answer your cell phone during a tutoring session. Please place your cell phone on vibrate and stow it in your bag or pocket. Remember, you should be modeling good student behavior.
You cannot rescue a student that hasn't been attending lectures or studying regularly. There are no solutions for a quick recovery (remember students are adults and ultimately responsible for their own learning).
---
Do whatever you can to neutralize the technology.
In other words, set yourself up to avoid technical problems.  If they do happen (and they sometimes will!), react to them calmly. Have a plan in place to troubleshoot any issues and share the protocol with your tutee(s) during your first session.  We recommend that you run a browser test before your appointment is scheduled to allow you to check that your connection, camera, and microphone are all working, so as to avoid any disruptions at the beginning of the session.
Get back on track quickly if something does go wrong.
Even the best planning and preparedness can't prevent the occasional glitch. If your audio feed echoes, the video is delayed, or your laptop battery runs down, use your troubleshooting plan to resolve such problems quickly, then get back to tutoring. Don't spend too much time apologizing or dwelling on what went wrong. Just move forward.
Work in a quiet setting conducive to effective tutoring.
Maximize your ability to hear your tutee by eliminating background noises, such as a loud air conditioner (or use a headset). Check to make sure that what's behind you isn't distracting. And if you share your workspace with a roommate, family, or friends, make sure they know your tutoring schedule, so they don't disrupt you while you're at it. Don't forget to turn your cell phone off and encourage your tutee(s) to do the same.
Be charismatic.
It's easy to bring energy and enthusiasm to a live, in-person tutoring session, but it may be a bit of a challenge when you're not standing right in front of your tutee. So, turn your charisma up a notch: project your voice a bit more; make bright, open eye contact. Be as lively and engaging as you can be.  Make sure your tutee sees everything you are presenting, including any screenshares, whiteboard, props, and yourself!
Don't type and talk.
Being understood is all the more important because of the online tutoring interface.  Talking and typing should always occur separately, so students can hear you clearly, and vice versa.  If a student begins to speak, stop typing.  If you absolutely must take notes, have a pen and pad of paper handy; you can transcribe notes to your computer after the session.
Pay attention to your tutee.
Is your student really tuned in, or is he or she messing around on Facebook or Instagram? If you suspect something is distracting them, ask about it. Or prevent potential distractions by reminding your tutee to put their cell phone away and close all unnecessary tabs and windows on their computer, and to put away anything else that might interfere with learning, before you get started. Beyond that, continue to engage your student throughout the session.
Speak and repeat.
Listening comprehension can be a difficult adjustment for some students.  Repetition is a great way to ensure that students understand the lesson material, and to reinforce the learning process too.  Ask your tutee to repeat back what both of you have discussed.  Don't be afraid if this repetition eats into your tutoring time; it's time well spent!
---

Peer tutoring sessions can often bring with them a wide variety of issues. Tutees are often comfortable enough in a tutoring relationship to ask the tutor for advice about any number of issues. Thus, as a tutor you must be knowledgeable about the types and location of campus services available to students and how to access those services.
Recognizing when to refer tutees to campus services
If you believe a tutee is using tutoring time inappropriately, i.e. using tutoring time to socialize or to discuss personal issues, repeatedly coming to tutoring unprepared.
If your tutee's behavior changes dramatically from earlier tutoring sessions
If your tutee exhibits any of the following behaviors:

Depression: general sadness, slow-moving, weepy, hopeless or very agitated, nervous, worried, unable to focus on academics
Anxiety: agitated, unable to focus, hyper, consistently fearful, acting startled
Signs of substance abuse: failing to meet obligations, erratic behavior, inability to function effectively due to drug or alcohol intoxication
Knowing how and where to refer tutees to services
It is critical to always discuss problem situations with your Coordinator. Your tutee's problems are not your sole responsibility. Your Coordinator may need to intervene to ensure that the right services are initiated for the tutee. If you refer a tutee to a service:
Offer information to your tutee on the general support services available. Refer to the listing of support services available on our website: https://learningcenter.missouri.edu/resources-for-all-mizzou-students/.
Suggest a specific service to your tutee if you think it is appropriate. Make sure that the tutee is the one to make the initial phone call or contact. Do not make the contact for them.
Important Reminders
Tutors ARE NOT trained psychologists, psychiatrists, social workers, health care personnel, or counselors. Remember not to exceed your role as a peer tutor. ALWAYS go to your Coordinator if you feel that there is an issue that needs attention. You are NEVER expected to counsel a tutee or to even make a referral to another service if you are uncomfortable with doing so.
Tutors are not expected to solve all the problems for their tutees. Your primary focus as a tutor should be on coursework, NOT on a tutee's personal problems.
You may not be successful with every student you are assigned to tutor. Try to recognize and acknowledge that no amount of tutoring will be enough for some students who might bring their personal issues into the tutoring session. Talk to your Coordinator immediately if you think the tutee needs more assistance than you can provide.
If a student ever reveals anything that makes you uncomfortable, please contact your Coordinator immediately.
If anyone is in immediate danger due to the distress of a tutee (yourself or other students), or the tutee has expressed that they may be a danger to themselves, call 911 immediately.
---

ISSUE: Students experiencing hopelessness and procrastination
"I'll never be able to do this."
"I always wait until the last minute."
"My assignment is due tomorrow. Will you help me?"
STRATEGIES:
Determine what the student already knows.
Through questions and discussions, show the student that they do have some knowledge to build upon.
Start by using simple units, then build to more complex ones.
Offer positive reinforcement when they successfully complete steps.
Use a variety of approaches and learning styles (examples, diagrams, analogies, etc.).
Remember: Waiting until the last minute to do assignments may be a sign of poor time management skills. Model time-management behavior in your sessions.
ISSUE: Confused students
"I'm not sure what this assignment is about."
"I don't get it."
STRATEGIES:
Structure and order the tutoring sessions: Provide a beginning, middle and end.
Offer study tips for notating, listening, time management and brainstorming.
Review the student's syllabus and discuss the overall class requirements or assignment details.
ISSUE: Students who resist suggestions
"That's not going to work."
"How will that help me?"
STRATEGIES:
Allow students five minutes to vent frustration.
Spend time building a relationship in order to increase trust.
Be pragmatic yet understanding: "I know these requirements are difficult, but they're required so let's make the best of it."
Indicate past successes in similar situations and provide an example.
Avoid fueling or supporting their anger and frustration.
ISSUE: Students who feel helpless
"Will you do this for me?"
"Will you check/read my paper?"
"Will you do this problem?"
STRATEGIES:
Offer continual encouragement.
Refer to policies prohibiting tutors from doing student's homework for them; remind them that tutoring is designed to help them learn problem solving techniques that will allow them to figure out the answers on their own.
ISSUE: Students who want the answers
"I've already done my homework. I just need you to check it for me."
STRATEGIES:
Remind them that tutoring is for helping them learn the concepts so they can build their confidence in the subject.
Respond with: "We don't proofread or check assignments, but I'll tell you what I can do. If you'll show me the areas you're worried about, we'll discuss those topics and do some similar problems together. Then, you can check your homework."
Remember: It is not your job to make sure that everything a tutee turns in is perfect. Helping students with specific homework problems is not what you were hired to do. Review similar homework problems and help the student develop the critical thinking skills necessary to do their homework assignment independently. Tutees must learn how to check their own work and how to have confidence in the answers they give. If they can do this, they will be able to defend their answers, understand more completely, develop better self-esteem, and become more independent.
ISSUE: Students talk negatively about an instructor/professor
"This instructor is really crazy!"
"I think he's out to get me."
STRATEGIES:
Change the topic of conversation.
Often, issues with an instructor develop because the student has unrealistic expectations, has performed negatively in the class, or they have not taken the time to actually visit with the instructor to discuss their performance and have instead developed a negative view of them.
Respond with: "Sounds like you're having a bad time. I'm sorry you're finding it difficult to succeed in this class. Perhaps you could show me some of the problems you are having difficulty understanding. I may be able to help clarify them for you. We may also need to review how you are studying for this class. You may have to invest more study time so that lectures are more meaningful and less stressful."
Remember: Never "bad mouth" instructors or agree with students who are doing so; it can spread to other students like a disease. Also, remember that anything you say about the instructor will get back to that instructor, which will reflect negatively on you and on the Learning Center. Always behave in a professional manner.
Please note: You have support. Coordinators and staff are here to help you. When you are faced with a difficult tutoring situation, immediately contact your Coordinator.
---
COMMUNICATION
Puts information across in a clear, understandable manner
Capable of reducing knowledge to its simplest components
Reinforces major points with meaningful examples
Answers questions freely and completely
Relates theories, principles, and concepts to practical applications
COMMAND OF THE SUBJECT MATTER
Knowledgeable in the content area and the specific course for which they are tutoring
Knows material well enough to emphasize the most important aspects
ORGANIZATION
Plans ahead for the tutoring session's activities
Comes to the session prepared and ready to deal with the topic
Uses tutoring time effectively and efficiently
Summarizes to aid learning and retention
INTERACTIVE TEACHING SKILLS
Helps students answer their own questions
Has patience and understanding for the beginning student
Senses when the tutee does not understand
Praises success to motivate future learning
Asks leading questions to help students learn and understand the material.
CREATIVITY & FLEXIBILITY
Uses a variety of presentation styles and teaching methods
Able to explain concepts from several different angles.
Tries new ideas and techniques periodically
Open to student suggestions on content and methods
Aware of and acknowledges cultural differences while treating tutees consistently and with respect
PASSION & COMMITMENT
Excited about teaching
Sincere interest in the subject matter
Makes learning a pleasurable experience
Uses enthusiasm to improve student attitudes toward the subject matter
Accepts criticism and suggestions as positive signs for change
Always looking for new and better ways to teach
Successful tutors DO NOT:
Expect the student to hear and remember everything they've said.
Say, "This is easy" or use any other phrase that might imply the student is not smart.
Put down or criticize the student or their abilities.
Solve the problem or give the answer.
Criticize an instructor or the assignment.
---
Updated 08/11/2022