Published on May 7, 2021
Meet one of our amazing graduating tutors, Micaela!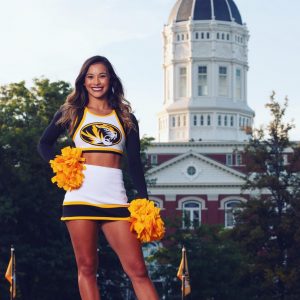 Degree: B.S. in Psychology with minors in Biology and Sociology
Hometown: St. Joseph, MO
MU Involvement: Mizzou Cheerleading; Pathways to Success (PAWS) program through the School of Medicine; Mizzou Global Medical Training
Favorite Mizzou Memory: My homecoming as an SEC Cheerleader!
Tutored: Math, Statistics, & Psychology since Fall 2019
Most Rewarding Thing about Tutoring? Watching my students grow over the semester and accomplish their goals. I loved watching my tutees finish their semesters strong and gain so much confidence in their abilities!
Top Tip for Academic Success: Use a planner!!!! Write down all of your due-dates, exams, assignments, etc. so you can 1) plan ahead and 2) always be on top of things! (Better yet, schedule an SPC appointment to help you with this!)
Best Advice for Incoming Freshmen: Get involved in what you love! You can do anything you set your mind to, and don't be afraid to ask for help along the way. Hard work pays off!
Future Plans: I will be attending medical school at the University of Missouri School of Medicine this fall, and will be graduating with my MD in 2025!